By Pamela Dean
The School of Education pinning ceremony began as a new tradition three years ago to recognize teacher education candidates who completed their professional preparation programs.
"We felt even more compelled during the pandemic to honor the incredible work and dedication it took for our candidates to persevere and complete their professional credentials," explained School of Education Dean Brian Sevier.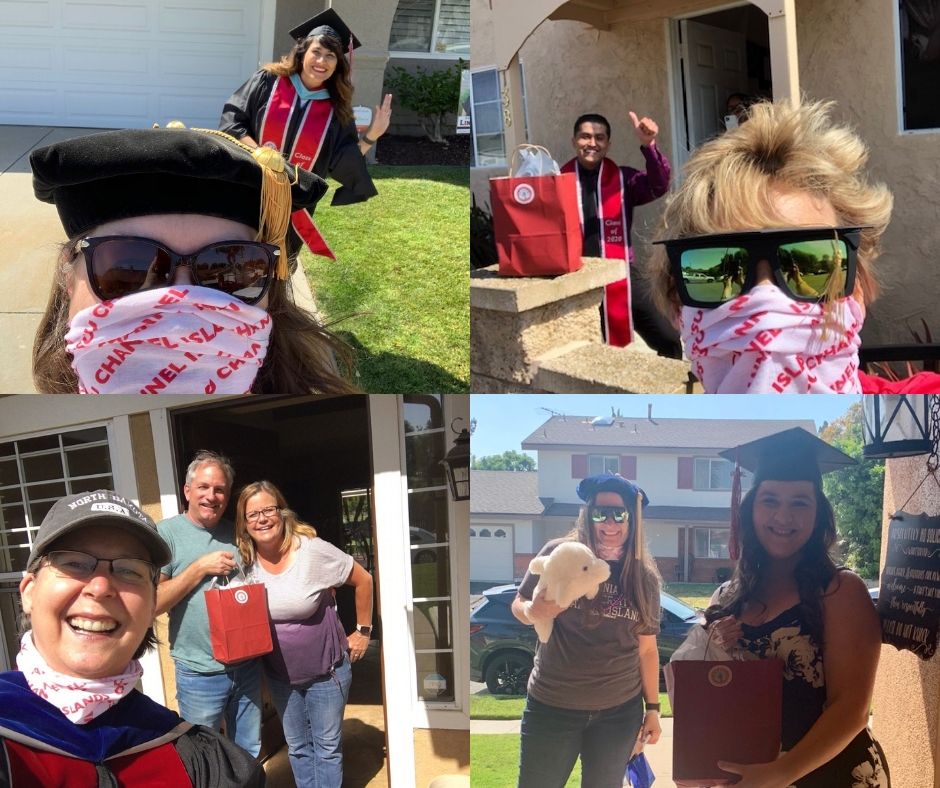 In lieu of the traditional in-person ceremony, more than 40 faculty and staff personally delivered gift bags containing the pins and other goodies to the homes of graduating students spread out across Southern and Central California, as far south as Rancho Cucamonga and as far north as Goleta.
In a carefully orchestrated fashion, faculty and staff making the deliveries gathered in a University parking lot to load up their cars with the gift bags before setting off on their journeys. Sevier recorded a video to showcase the pick-up event and put together a slideshow that included photos taken with the students and faculty or staff at the drop off locations.
"We personally and safely delivered nearly 160 pins to freshly-minted early childhood educators, elementary teachers, secondary teachers, special education teachers, and K-12 principals," said Sevier. "The 'ceremony' was an amazing success, with candidates accepting their packages with family members, significant others, and even their pets."
"I enjoyed the experience so much," said Lecturer Janet Connor who participated in the deliveries. "Students and parents, boyfriends and brothers, children and bubble friends, etc. were appreciative too. Shout outs from windows and cameras clicking from socially distant people showed how much they appreciated what we did."
Full Story originally published at https://www.csuci.edu/news/spotlights/alumni/virtual.htm