Given the pandemic-related complexities we are all continuing to navigate this Spring 2021 semester, we are putting our plan for the 12th Annual Conference for Social Justice in Education on hiatus--as we also did in Spring 2020 because of the campus closure last year. Rather than host a virtual conference this year, we look forward to what we anticipate will be a celebratory in-person event in Spring 2022.  
---
2021 Theme:
Being Anti-Racist, Teaching Anti-Racism
Saturday, April 24th, 2021
8:00am - 2:00pm
A Virtual Conference at California State University Channel Islands
Zoom link will be emailed to registered participants
---
About the Conference
Attendance is free and open to the public.
Each year, CSUCI's Annual Conference for Social Justice in Education is offered at no cost to participants. There is no registration fee, and when we have been able to hold the conference in person, parking and lunch have been provided to all registered attendees. Our thinking is that these kinds of conversations are so essential, and we want people from all walks of life to contribute to them. We want parents, grandparents, P12 students, community college and university students, teachers, professors, school board members, administrators, community educators, and other members of the public to sit with each other and figure out how we can make progress together toward achieving social justice in and through education.
 This year, the conference will be a virtual event—still offered at no charge to participants. Rather than publishing our usual Call for Proposals, this year's conference will feature a combination of:
presentations by authors published in the Fall/Winter 2020 issue of Allies for Education, and
presentations that had been accepted for what would have been the Spring 2020 Conference for Social Justice in Education, had it not been canceled because of the coronavirus pandemic.
The purpose of this annual event is to showcase the social justice oriented work being done in and around schools and educational institutions in the region, to network with others who believe in the power and necessity of such work, and to learn from one another about how best to teach and learn in ways that promote equity, peace, and integrity in public education.
CSUCI's 12th Annual Conference for Social Justice in Education
 This year's theme is Being Anti-Racist, Teaching Anti-Racism. The May 25, 2020 murder of George Floyd by Minneapolis police, added to countless other lives unjustly ended or damaged over centuries of racism and exploitation in the U.S. and around the world, makes at least two things clear: (1) It is not enough to value diversity and inclusion and to say "Black Lives Matter"; those values must be put to work in active pursuit of justice for all. (2) It is not enough to teach youth to not be racist; the required teaching must be how to effectively engage in identifying and dismantling systems that rely on and perpetuate racism. The bar has been set too low (though it must be said that as a people, Americans have not yet cleared even that modest threshold).
How can we lift anti-racist expectations and actions, together, in and through education?
What does it mean to be actively anti-racist in and through education?
What do we need and/or what must we do to ensure that we are teaching anti-racism?
What should youth be taught about the construct of race?
Why do "ethnic studies" matter?
As you reflect on your schooling and/or teaching experiences, and as you think about how your experiences connect with those of others, what do you think an anti-racist approach to education makes possible in schools and other educational contexts? How can this approach be achieved? 
Our vision is that this year's conference will provide attendees with opportunities to have thoughtful conversations about research, policies, and practices that either undermine or advance the goal of achieving racial and social justice in and through education. The conference is a venue for critical thinking and sharing insights into what works – and to inspire all of us to collaborate in moving that work forward. Participants will walk away with: (1) greater understanding of the research, policies and practices that undermine or advance racial and social justice in and through education; (2) ideas for action and opportunities to pursue reforms to create equitable learning opportunities for all students; (3) connections with others in the community who are working toward social justice in education. 
NOTE: We will be collecting voluntary donations for the Alex McNeill Memorial Scholarship Fund. This scholarship provides support to First Generation College Students in CSUCI's School of Education who are preparing to become educators and educational leaders in our region and beyond.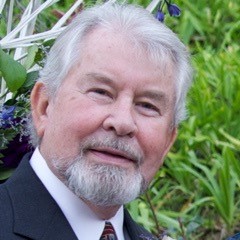 Alex McNeill, Educator, Colleague, Friend
Dr. Alexander William McNeill came to CSUCI as its founding Vice President of Academic Affairs and oversaw the University's initial development of academic programs and academic planning. Following that role, he served as Director of Liberal Studies, and in his final year before retiring in 2011, as Interim Dean for the School of Education.
Alex earned teaching credentials in math and physical education from St. Luke's College, Exeter, England. He loved sports, particularly rugby and gymnastics. He received the first Fulbright scholarship in physical education for his study in exercise physiology and biomechanics, leading him to earn a Bachelor of Science in physical education in 1965, a Master of Science in exercise science in 1967, and a doctorate in exercise physiology and biomechanics in 1973. His work in higher education included posts at the University of North Carolina at Greensboro, the University of Idaho, Montana State University, the University of Alaska, and CSU Channel Islands.
Alex was born January 19, 1943, in Stirling, Scotland and died February 26, 2016, in Ennis, Montana.
Conference Themes (PDF, 345KB)