2020 Theme:
Belonging Matters: Building Connections, Coalitions, and Currirula for Human Beings

Saturday, April 25th, 2020
8:00am - 2:00pm
Grand Salon at California State University Channel Islands
Download the Request for Proposals (RFP)
The School of Education at Channel Islands (CSUCI) invites you to submit a proposal to present at the 12th Annual Conference for Social Justice in Education. The daylong conference, offered at no cost to participants, will be held on Saturday, April 25, 2020 (8:00 am to 2:00 pm) on the campus of CSUCI.
The purpose of the annual event is to showcase the social justice oriented work being done in and around schools and educational institutions in the region, to network with others who believe in the power and necessity of such work, and to learn from one another about how best to teach and learn in ways that promote equity, peace, and integrity in public education.
This year's theme is Belonging Matters: Building Connections, Coalitions, and Curricula for Human Beings. The theme builds on the powerful scholarship of previous conferences and highlights the essential process of networking, of building a common agenda, and of creating opportunities for collaborative impact to achieve social justice by and through education.
Our vision is that this year's conference will provide attendees with opportunities to have thoughtful conversations about research, policies, and practices that either undermine or advance the goal of achieving social justice in and through education. The conference is a venue for critical thinking and sharing insights into what works – and to inspire all of us to collaborate in moving that work forward. Participants will walk away with: (1) greater understanding of the research, policies and practices that undermine or advance social justice in and through education; (2) ideas for action and opportunities to pursue reforms to create equitable learning opportunities for all students; (3) connections with others in the community who are working toward social justice in education.
Attendance is free and open to the public. Walk-ins can register at the event on April 25 at 8:00 on a space-available basis, but we encourage online registration so we can plan efficiently for lunch (which will be provided free of charge by conference sponsors).
NOTE: We will be collecting voluntary donations at the conference, with all proceeds going to the Alex McNeill Memorial Scholarship Fund. This scholarship provides support to First Generation College Students in CSUCI's School of Education who are preparing to become educators and educational leaders in our region and beyond.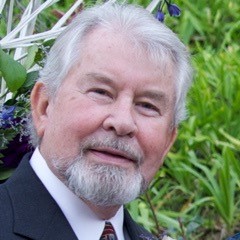 Alex McNeill, Educator, Colleague, Friend

Dr. Alexander William McNeill came to CSUCI as its founding Vice President of Academic Affairs and oversaw the University's initial development of academic programs and academic planning. Following that role, he served as Director of Liberal Studies, and in his final year before retiring in 2011, as Interim Dean for the School of Education.
Alex earned teaching credentials in math and physical education from St. Luke's College, Exeter, England. He loved sports, particularly rugby and gymnastics. He received the first Fulbright scholarship in physical education for his study in exercise physiology and biomechanics, leading him to earn a Bachelor of Science in physical education in 1965, a Master of Science in exercise science in 1967, and a doctorate in exercise physiology and biomechanics in 1973. His work in higher education included posts at the University of North Carolina at Greensboro, the University of Idaho, Montana State University, the University of Alaska, and CSU Channel Islands.
Alex was born January 19, 1943, in Stirling, Scotland and died February 26, 2016, in Ennis, Montana.