Illustration by American Educational Research Association (AERA)
Pictured below: Dr. Tiina Itkonen, Professor of Education – Special Education & Political Science and M.A. in Education – Disability Studies Advisor (left)
and Dr. Manuel Correia, Professor of Elementary Education and Credential Programs Chair (right)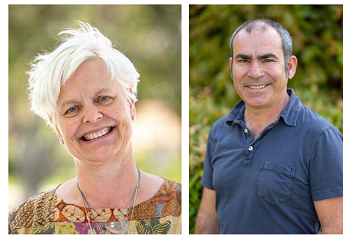 March 19, 2021 - The CSUCI School of Education is proud to have multiple faculty accepted as American Educational Research Association (AERA) presenters in 2021.
Dr. Tiina Itkonen (SoE Faculty) Bryan Tomlin, Tracie Schneider (CI Student), Dr. Manuel Correia (SoE Faculty), Taylor Grindey (CI Student), Karmyn Luong (CI Student) and Luis Sanchez will present The Effect of Student and District Characteristics on Reimbursements in Special Education Due Process Hearings.
Presentation Synopsis: This presentation is an interdisciplinary multi-year project, conducted by representatives from the School of Education, Arts and Sciences, and the MV Smith of Business and Economics, in which CI students worked alongside the Faculty authors/researchers to do data coding, entry and preliminary probability and regression analyses. These students have also represented CI in the CSU-wide research competition. This research examined the effect of student and district characteristics on the likelihood of student/parents receiving reimbursement in special education due process hearings in California, in rulings where each party partially won. Using a database we compiled (2005-2019), the study analyzed the likelihood of reimbursement orders with the following educational dis/advantage proxy variables: Student being the plaintiff, counsel representation, use of a translator; the dispute concerning private school placement; and district's free/reduced-priced meal rate. Linear probability models indicate that parents' use of a translator and higher district free/reduced ​priced meal rates were negatively associated with reimbursement orders. ​Attorney representation for parents was more likely to be associated with reimbursement orders. We discuss rights-based legislation and its private enforcement more broadly. While the decisions remedy individual grievances, they raise equity concerns for those who do not bring forward a claim.
The AERA looks to improve education by "encouraging scholarly inquiry related to education and evaluation and by promoting the dissemination and practical application of research results." The association is made up of over 25,000 members ranging from faculty, researchers and graduate students to other distinguished professionals who specialize in education research.
The association brings educators around the world together every spring for the AERA Annual Conference. This year educators will gather to the theme of "Accepting Educational Responsibility." The conference will be held virtually from April 9-12.
For more information about AERA visit: https://www.aera.net/Events-Meetings/Annual-Meeting.
Congratulations Dr. Itkonen and Dr. Correia!