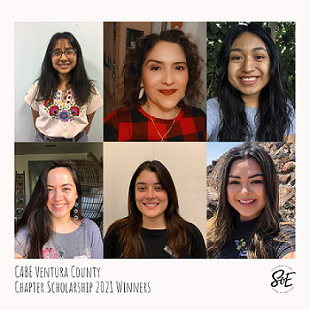 The CSUCI School of Education is proud to commemorate six California Association for Bilingual Education (CABE) Ventura County Chapter scholarship winners. Undergraduate students, Barbara Gonzalez, Jessica Aragon, Gaby Mejos, Alondra Barajas Chavez, Valerie Garcia, and Maria Orozco have each been awarded $500 to assist them in pursuing the bilingual authorization of the California teaching credential. In addition, each student was awarded full registration payment to participate in the CABE state-wide annual (virtual) professional conference March 23-27, along with other bilingual educators in California and around the country. 
CABE is a non-profit organization promoting bilingual education and quality educational experiences for all students, with chapters and regions all over California, including the Ventura County chapter supported by the scholarship committee and led by local president Maria Hernandez, principal of Rio Real School in the Rio School District. 
Both state-wide and local CABE chapters recognize and honor California's rich multicultural, racial, and linguistic backgrounds of all students with a mission to support biliteracy, multicultural competence, and educational equity.
Bravo to these future bilingual teachers!