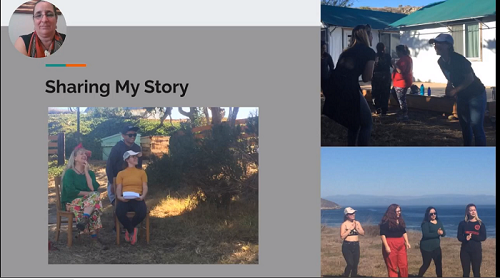 School of Education Early Childhood Studies (ECS) faculty and students presented a multi-year research project at the Fall 2020 Virtual National Learning Stories Conference. With over 100 students and staff from across the United States and five international countries in attendance, ECS presenters had the opportunity to communicate their findings to a large and diverse audience.
The presentation titled "Honoring Diverse Student Perspectives" was co-presented by ECS students Christina Morley and Luis Allon, as well as Assistant Professor of Early Childhood Studies, Dr. Annie White. The session provided insight to their four-year research project, which showcased narrative stories from the Santa Rosa Island and demonstrated how "My Stories" – an adaptation from Learning Stories – can be utilized as a learning and self-reflection tool. Participants also learned essential components and various ways early childhood educators and higher education courses can incorporate narrative inquiry as a method to promote diverse, shared voices. 
To learn more about Supporting the Advancement of Learning Stories in America (SALSA) and for more information about the 2021 Learning Stories Conference, please visit: https://www.salsa-global.org.