This article was originally posted by the Thousand Oaks Acorn.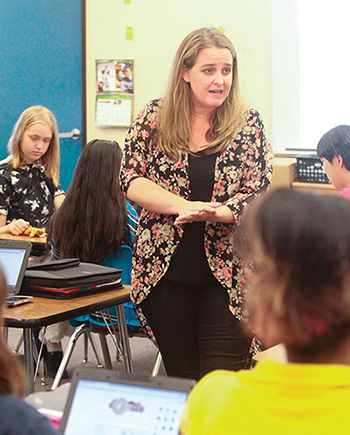 CSUCI alumna Shannon Baranski has been so successful in forging connections with pupils, including at-risk students, she was chosen as Conejo Valley Unified's Teacher of the Year on May 29, an honor given by the school district in conjunction with the Greater Conejo Valley Chamber of Commerce.
The educator teaches English at Discover Academy, an inquiry-based program with a focus on hands-on learning that's located on the Sequoia campus. She also teaches honors English at Sequoia, where she serves as the English department chair and advisor to the Where Everybody Belongs, or WEB, program which helps students navigate the transition between elementary and middle school.
Congratulations to Mrs. Baranski!
Photo Credit: Richard Gillard/Acorn Newspapers