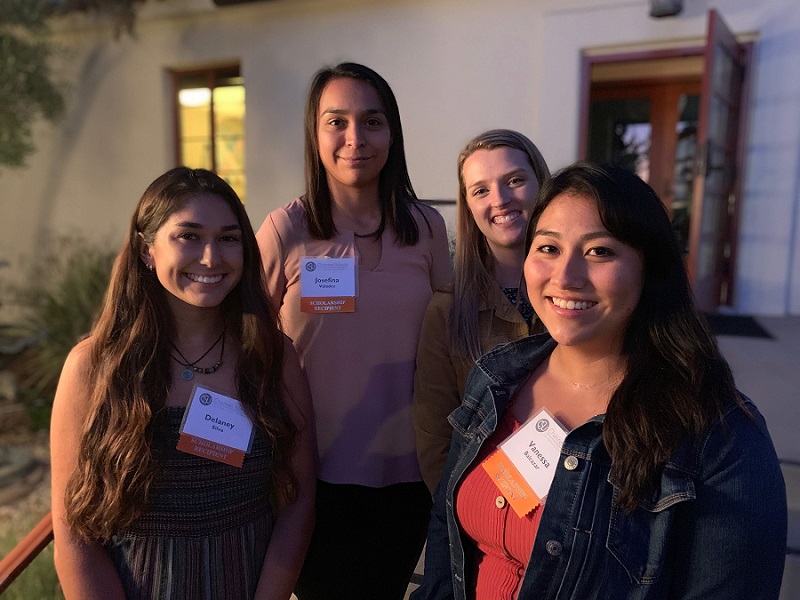 This fall, the CSUCI School of Education is proud to celebrate four scholarship recipients. Each of the four, Vanessa Balcazar, Jessica Kircher, Josefina Valadez, and Delaney Silva are aspiring teachers at various stages in their educator preparation programs. These inspirational women garnered the attention, and are the deserving recipients, of the Delta Kappa Gamma, Ronald Mack, and Barbara Meister Scholarships. Below are some thoughts from a few of these scholarship awardees about this honor.
Jessica Kircher (Delta Kappa Gamma Awardee), aspires to work in the Pleasant Valley School District and with upper elementary students: Receiving this scholarship means that I am able to pursue the career path that is right for me. I started out my professional career as an interior designer at an architecture company in southern California. It wasn't long before I felt dissatisfied and like something was missing in my life. I decided to pursue tutoring as a way of making extra income and fell in love with it…this scholarship will help me to continue having these wonderful experiences.
Vanessa Balcazar (Delta Kappa Gamma Awardee), hopes to work with K-2 students and to be a positive agent of change for the community:Receiving this scholarship opened doors for me, as it allowed me to continue my education. It is very meaningful because it shows that someone out there believes in me and achieving my goals and I will not let them down. I am beyond grateful for this opportunity. 
Josefina Valadez (Ronald Mack Awardee), is drawn to high school English and to working with students in economically disadvantaged circumstances:Receiving this scholarship was such a great relief because... I was able to buy a laptop to use at home instead of needing to keep checking one out at the library. Additionally, I was able to cut back hours at work to concentrate on my school work...I will have a super diverse classroom and a diverse curriculum as well! I am extremely grateful for this extra help.
Delaney Silva (Barbara Meister Awardee), loves working with students in 1st and 2nd grade and language arts in particular:Receiving the Barbara Meister Scholarship meant so much to me! My family and I feel so appreciative and grateful to have received this generous scholarship because it relieved a lot of financial stress …It is helping me become that much closer to reaching my goals of becoming a teacher!