SOE's Third Annual Pinning Ceremony has been postponed.
As soon as we are able to announce a new date for this event, we will make sure to share with the class of 2020 and our campus community.
Please read the full message from Dean Sevier below:
Hello School of Education students and alum!
I hope you are all doing well, staying safe, and taking good care of yourselves and others! You have all no doubt seen or heard about the cancellation/postponing of CSUCI's commencement this year. You have probably surmised that the current situation also means that we will not be holding our annual pinning or our inaugural alumni events this spring. You have my promise that the School of Education will start thinking about alternate ways to make these events happen as soon as we can!
I want you to know that this is one of the most regrettable messages I have ever had to compose and send. But, we will find ways to celebrate our graduates/completers and to celebrate with our alumni! Until then, know that you are all in our thoughts and that you can reach out to SoE faculty, staff, and me if we can be of any help during these incredibly unstable times.
Take good care, SoE,
Brian R. Sevier, PhD
Dean, School of Education
California State University Channel Islands
The School of Education Pinning Ceremony honors the work our students have done to complete degrees, programs, credentials, and to mark their achievements as a milestone in their educational careers.
---
SOE Pinning Ceremony Student Speaker Competition 2020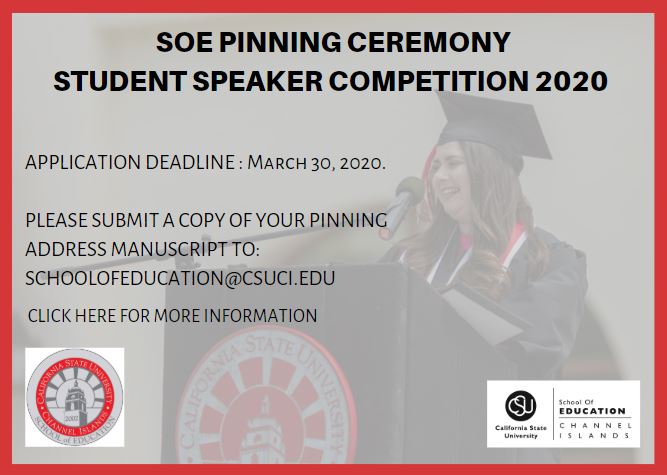 The CSUCI School of Education invites graduating students from the Class of 2020 to apply to be a student speaker at the 3rd Annual SOE Pinning Ceremony. It is an honor to be selected to present a student pinning address - to convey a message of inspiration and encouragement, share common experiences and insights, and inspire your fellow SOE graduates.
Eligibility
Graduating students interested in delivering an inspirational address must meet these criteria:
Be eligible for graduation.
Be in good academic and disciplinary standing.
Commit to attend and participate fully in the rehearsal and pinning ceremony on May 22, 2020
Guidelines
The address should be between 3 – 5 minutes. This translates to approximately 400-650 words or 2-3 double-spaced, typed pages.
Because you will present the speech to fellow students graduating from more than one program, it is important to keep the themes broad.
Discuss the transformative power of your educational experience and the CI mission.
Avoid personal references that are unique to personal experience unless they provide insights into an extraordinary life lesson valuable to your listeners.
A variety of emotional content is always welcome in a speech. Humor is useful as well as a serious tone, as well as joy and sorrow. You do not have to include all of these, but emotional monotony can make for a difficult listening experience.
February 17 - Application opens
March 30 - Application closes
April 10 - Speakers notified
May 22 - Student speaker rehearsal
May 22 - Pinning ceremony
Application Deadline March 30, 2020
Please submit a copy of your pinning ceremony address manuscript to schoolofeducation@csuci.edu .
For additional information, see the Student Speaker Application(PDF, 85KB)