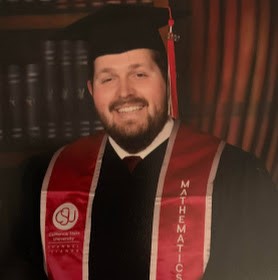 March 12, 2021 - Eric Stuart, Math Science Teaching Initiative (MSTI) Scholarship awardee, is a Mathematics Major seeking a Mathematics Teaching Credential. His goal is to make math "a more fun, interactive, and more comprehendible subject" for students.
"When faced with a math problem, most people just shut off or turn away because 'I've never liked math' or 'I'm not good at math.' I believe that we're all mathematicians and we use it in our everyday lives whether we realize it or not. It may not be as advanced as calculus, but we need and use math nonetheless. My goal is to implement a growth mindset when I'm teaching mathematics so everyone can understand it."
Stuart credits his opportunity to pursue his credential to the support he has received from the MSTI scholarship. Without their support he would have been forced to pause his education to gather the financial resources needed to continue.
"Coming from a single mother, I was always taught that I needed to do well so that I could go to college. The problem with facing the reality of going to college was never the studies or the hard work that I would put into my work, but the financial support," he shared. "Even more so, wanting to become a teacher (which is typically one of the most underpaid professions), I knew that financial hardship wouldn't just be a temporary worry but a forever worry. Thus, being acknowledged and rewarded for the career path I'm choosing and the support from the MSTI community is incredible."
Stuart is currently a student-teacher at Channel Islands High School in Oxnard, California, where he works with students from freshmen level to senior level. He hopes to continue working with the same grade level students once he has completed his credential.
Keep up the great work, Eric!
---
The MSTI Scholarships provide incentives for individuals pursuing K-12 math and/or science teaching credentials at CSU Channel Islands. These scholarships assist students with educational costs as they complete a credential program. Scholarship recipients will be expected to participate in one or more math and science teacher recruiting activities.
For more details on the MSTI scholarship and to apply visit: https://education.csuci.edu/financial-resources/msti.htm