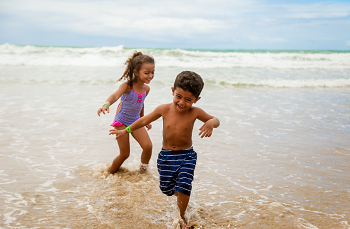 Are you fascinated by the learning, playing, and developing minds of young children and have a passion to make a positive impact? Then the Bachelor of Arts Degree in Early Childhood Studies is for you!
The Bachelor of Arts Degree in Early Childhood Studies (ECS) prepares CI students to work effectively with young children from birth through eight years of age and their families. Our program develops the knowledge and skills necessary to work with the youngest community members, including the embedding of substantive training in language acquisition and literacy for early childhood Dual Language Learners across the program. In completing the major, ECS students acquire the competencies to serve both typically and atypically developing young children within the natural settings of home, community, and schools.
The academic program offers core curricula and fieldwork in early childhood development and pedagogy while highlighting family engagement in the context of family, culture, language, and society.
Upon completion of the BA in Early Childhood Studies, graduates are eligible for the Child Development Teacher Permit issued by the California Commission on Teacher Credentialing (CTC).
Students participate in field experiences with:
infants and toddlers (birth to 3 years)
preschool children (3-5 years)
transitional kindergarten (4-5 years)
primary grades (kindergarten to 3rd grade)
Additional Information
*Please contact us if you are uncertain of which catalog to follow to complete your program requirements. 
ECS Newsletter Archive
Visit our newsletter archive for news, updates, scholarship opportunities, student teaching information, job openings, program announcements, and more.
Contact Us
Dr. Mari Riojas-Cortez
Program Chair
mari.riojas-cortez@csuci.edu 
Advising
Karla Aguirre
Academic Advisor, Early Childhood Studies
805-437-8480
Karla.Aguirre@csuci.edu
To schedule an advising appointment with Karla Aguirre, please log into your myCI portal to access Dolphin Navigate or use the following link:https://csuci.campus.eab.com/ 
CSUCI offers a wonderful program of Early Childhood Studies. The ECS instructors will provide you with the knowledge, skills and passion that reflects their outstanding qualities and at the same time working with young children and families. What I loved from the program was having the opportunity to design and implement developmentally appropriate curriculum with children from birth through eight years of age.

Arnulfo Munoz